Warwick, RI (May 23, 2023) – Recently, Corvias held a special celebration to honor eight team members who celebrated 19+ years of serving service members and their families. All eight team members began their tenure at Corvias' Fort Meade partnership location and helped launch the military housing privatization initiative (MHPI) pilot program at Fort Meade in 2001. "These team members have been critical in providing the best possible resident experience since the inception of MHPI at Fort Meade. This type of dedication helps reinforce our ongoing commitment to our military families," said Pete Sims, DOD managing director at Corvias.
While ongoing training and development have proven to be key in allowing these team members to flourish, respect and connection also top the list of reasons why they've chosen to remain with the company long-term.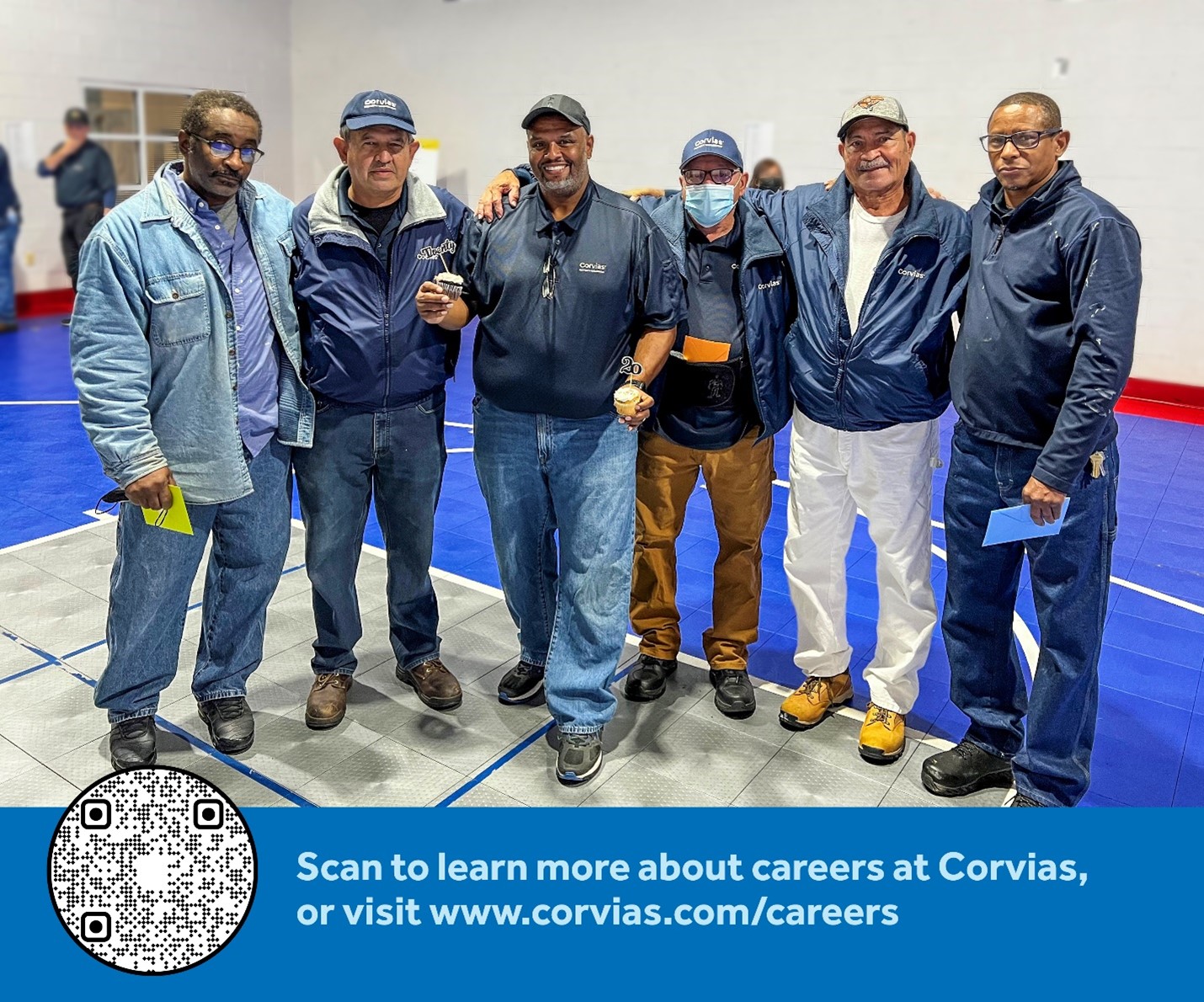 Over the last 21 years, Carlos Saravia has learned how to use pressure washers, stripping machines, and computers, but the most rewarding experience has been meeting great friends and co-workers. "I have remained committed to Corvias because I love my job. Providing services for the military personnel is very gratifying," Saravia said. As a maintenance technician, Carlos takes pride in keeping community offices, common areas, playgrounds and community areas pristine.
Similarly, Douglas Espinoza values the many opportunities he's had to learn how to use different work tools and machinery in his maintenance technician role. "I've had a great experience reaching my goals over the past 20 years and remained loyal because of the treatment I received from the start," he said.
According to Espinoza, his tenure with Corvias is because of the great people he works with and the company culture. "The most rewarding experience has been meeting the different people that I interact with on a daily basis from different cultures and parts of the country," he said. What's more, Espinoza credits service members for teaching him something especially significant: respect. "I learned respect from our service members, and I have great respect for them, their families, and their sacrifices."
At Corvias, career growth is possible and encouraged for all team members in all roles. Noel Berrios began his Corvias career as a porter and transitioned into a painter role. As a painter, he repairs drywall and works on a variety of painting projects. For Noel, "The most rewarding experience has been the treatment I have received from the first day. I learned what it's like to be treated with respect, and I remained loyal because I enjoy working for a company that cares for their employees." he explained. "I want to thank the company for allowing me to work all these years. I love what I do and the people around me."
If you are interested in learning more about career opportunities at all Corvias locations, please visit www.corvias.com/careers.
 # # #
About Corvias
As a privately-owned company headquartered in Warwick, RI, Corvias partners with the Department of Defense and higher education institutions nationwide to solve their housing, infrastructure and energy resiliency challenges and to create long-term, sustainable value through our unique Solutions Through PartnershipsSM approach. Corvias pursues the kinds of partnerships that materially and sustainably improve the quality of life for the people who call our communities home. Corvias seeks to partner with organizations with aligned values and missions that are important to our nation's success. To learn more, please visit: www.corvias.com.
About Corvias Property Management
Corvias Property Management applies its resident-first approach to provide housing operations, maintenance and service support for university and military communities to create safe, high-quality places to live, learn, work and interact. Across ten U.S. states, Corvias Property Management maintains 42,000 residential units, totaling approximately 50 million square feet of real estate, including at seven military installations and 15 universities.
Media Contact:
Mary Humphreys
(401) 541-3375
Communications@Corvias.com