East Greenwich, RI (September 12, 2019) - Today Corvias announced a $325 million investment into its Department of Defense (DoD) portfolio to fund strategic modernization and resiliency improvements to its U.S. Army base housing infrastructure. Corvias has developed this first-of-its-kind investment structure to evolve its management solution into the 21st century and keep in step with the critical needs of the Army and its base residents.
"We have been working on this investment plan for more than 18 months, long-recognizing that significant revitalization is necessary to provide high-quality military housing, and increased interest and visibility proved that we are on the right track.  The failed status quo – repairing and maintaining aging and outdated facilities – must be replaced by innovation and modernization.  That is what Corvias will do, across our entire portfolio, and this is the start," said John Picerne, Founder at Corvias. "This investment will enable us to make better use of data-driven technologies and services to improve the customer experience, inform predictive maintenance and monitoring, drive greater business efficiencies, and improve the resiliency and sustainability of both our homes and the utility infrastructure that services them."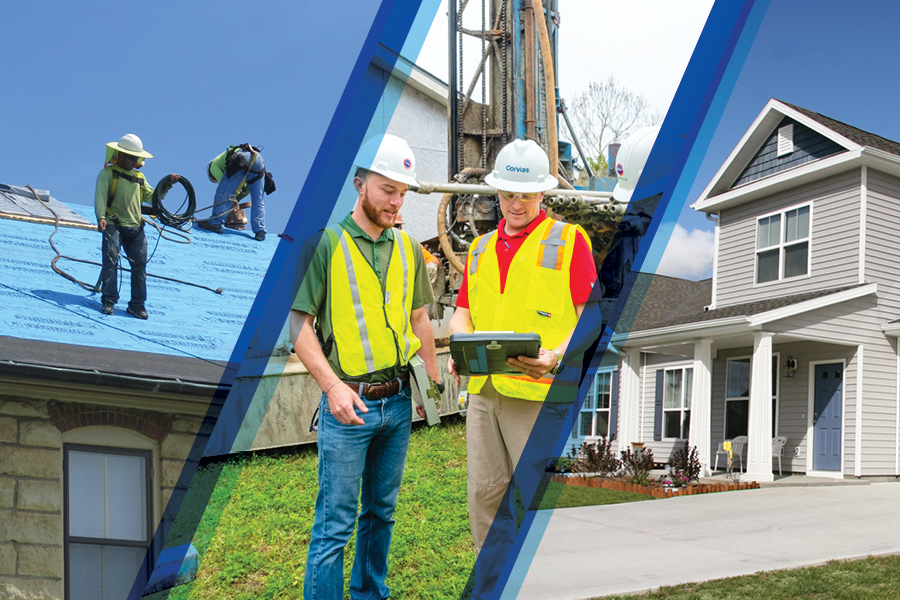 To make these improvements possible, Corvias, one of the first Military Housing Privatization Initiative (MHPI) partners, worked with its partners to develop this innovative direct capital investment structure, at no cost to the government, in support of the MHPI.
"Our plan epitomizes what a partnership should enable: beyond meeting today's needs, anticipating and finding solutions to future scenarios. We saw the challenges faced by the Army – aging housing and infrastructure – and were ready to evolve and transform," according to Picerne. "This investment is an innovative solution to the modernization problem the Army faces." Of the 26,000 homes Corvias manages across 13 installations, most are 40 to 60 years old, with some dating back to 1870.
"Critical to long-term partnerships providing value and being successful is the ability to adapt and evolve to rapidly-changing environments," added Picerne. "Partnerships can never assume a 'fix it and forget it' mindset. At Corvias, our continuous position is looking ahead, planning and innovating to solve holistically, meeting today's needs as well as tomorrow's."
Implementation of this solutions investment begins with assessing the homes, then prioritizing so that the most challenged assets are upgraded first.  This will lead to an estimated $300 million in savings over 30 years, due to greater business efficiencies resulting from upgrading critical existing infrastructure, technology upgrades inside the home for more proactive maintenance and monitoring and a portfolio-wide reduction of energy consumption. This work is being done without diverting financial resources from other existing core services or customer needs.
"As a long-term solutions partner with the Department of Defense, Corvias develops and manages integrated capabilities across utilities systems, and social infrastructure to support enhanced quality of life through modernization, and more importantly, to continuously evolve to meet current and future needs of the Army and our residents," said Picerne.
Corvias will lead the energy management services, inclusive of renewable energy and sustainability services that create substantial portfolio efficiencies and improvements, through Sunstone Development (a joint venture between Corvias and Onyx Renewables) working with Johnson Controls.
Johnson Controls, a global diversified technology and multi-industrial leader, will implement technology upgrades inside the buildings bringing approximately 16,000 homes to the highest energy standards available. "We are excited to partner with Corvias to support America's service members and their families by providing upgrades for sustainable, efficient and modernized housing," said Charles McGinnis, vice president of sales, Performance Infrastructure for Johnson Controls. "Our innovative, energy efficient solutions are being implemented on a quick timeline to help Corvias deliver this unique, first-of-its-kind portfolio approach to the Army."
The enhancements will allow Corvias Property Management to have access to better information and enhanced monitoring of assets, resulting in proactive responses that get ahead of a problem before it occurs.
"The goal is for the systems to communicate with us about issues and potential failures in advance of work orders, truly achieving the Gold Standard we set out to realize," said Picerne.
Corvias has delivered more than 9,500 new homes and renovated more than 16,400 as part of the Military Housing Privatization Initiative. MHPI was enacted in 1996 to leverage private-sector capital, and expertise, to reverse the military's backlog of deferred maintenance by expanding and modernizing housing, with predictable, stable long-term operating costs and performance.
###
About Corvias
As a privately-owned company headquartered in East Greenwich, RI, Corvias partners with higher education and government institutions nationwide to solve their most essential systemic problems and create long-term, sustainable value through our unique approach to partnership. Corvias pursues the kinds of partnerships that materially and sustainably improve the quality of life for the people who call our communities home, purposefully choosing to partner with organizations who share our values and whose mission is to serve as the foundational blocks, or pillars, of our nation. To learn more, please visit: www.corvias.com   
About Onyx Renewable Partners L.P.
Onyx is a renewable energy development company established by funds managed by Blackstone Energy Partners that is focused on greenfield development in the North American solar and wind sectors. The Onyx team brings over 100 years of collective industry experience and perspective, having developed more than 1 GW of renewable projects. As a full-service firm with capabilities including development, construction, financing, and asset management, Onyx is able to provide creative solutions to large energy users and land owners in North America. Onyx prides itself on its ability to bring together exceptional talent with deep industry knowledge to solve challenging issues for customers looking to maximize renewable power generation. Onyx is headquartered in New York City.  www.onyxrenewables.com
About Johnson Controls
Johnson Controls is a global diversified technology and multi industrial leader serving a wide range of customers in more than 150 countries. Our 120,000 employees create intelligent buildings, efficient energy solutions, integrated infrastructure and next generation transportation systems that work seamlessly together to deliver on the promise of smart cities and communities. Our commitment to sustainability dates back to our roots in 1885, with the invention of the first electric room thermostat. We are committed to helping our customers win and creating greater value for all of our stakeholders through strategic focus on our buildings and energy growth platforms. For additional information, please visit http://www.johnsoncontrols.com or follow us @johnsoncontrols on Twitter.