ARLINGTON, Va. (March 2, 2023) – Corvias, a long-term solutions provider to the DOD supporting readiness and resiliency through sustainable infrastructure, on March 6 will sponsor the "We Are One Community" reception as part of the Association of Defense Communities (ADC) National Summit. This premier annual gathering brings together defense community members, senior military officials, key members of Congress and the nation's top defense policy and budget experts in forums that help define the future of U.S. national security. Keynote speaker Honorable Christine Wormuth, Secretary of the Army will be joined by Members of the Senate and House Armed Services Committees, as well as senior-most leaders for acquisition, sustainment, energy, installations and environment.
"Corvias recognizes the value of forums like the ADC National Summit, which is so important for understanding and being prepared to solve for the interests, needs and priorities of the Department of Defense and related Congressional committees," said Chris Wilson, CEO of Corvias. "By focusing on infrastructure, from energy to housing to stormwater and more, Corvias has proven its ability to bring together the right resources to help support service members' readiness and the resiliency of military communities."
Corvias will debut Solutions Through PartnershipsSM, a 90-second film highlighting some of the long-term solutions it has helped deliver through its partnership with the Department of Defense over the past 20+ years.
"As a solutions provider to the Department of Defense (DOD), Corvias serves more than 72,000 residents across seven U.S. Army installations nationwide and is committed to continuing to work together to continue to enhance the quality of life for service members and their families," Wilson added.
ADC National Summit speakers will discuss DOD readiness, energy, environment sustainment, infrastructure and utility investments, recruitment, military spouse unemployment and retention, capacity and supply chain considerations.
Representing Corvias will be Pete Sims, DOD managing director; Al Aycock, partnership executive; Pablo Varela, senior vice president of renewable energy and utilities management; and Lynn Chia, executive vice president of new business growth. To attend, please visit: www.ADCSummit.org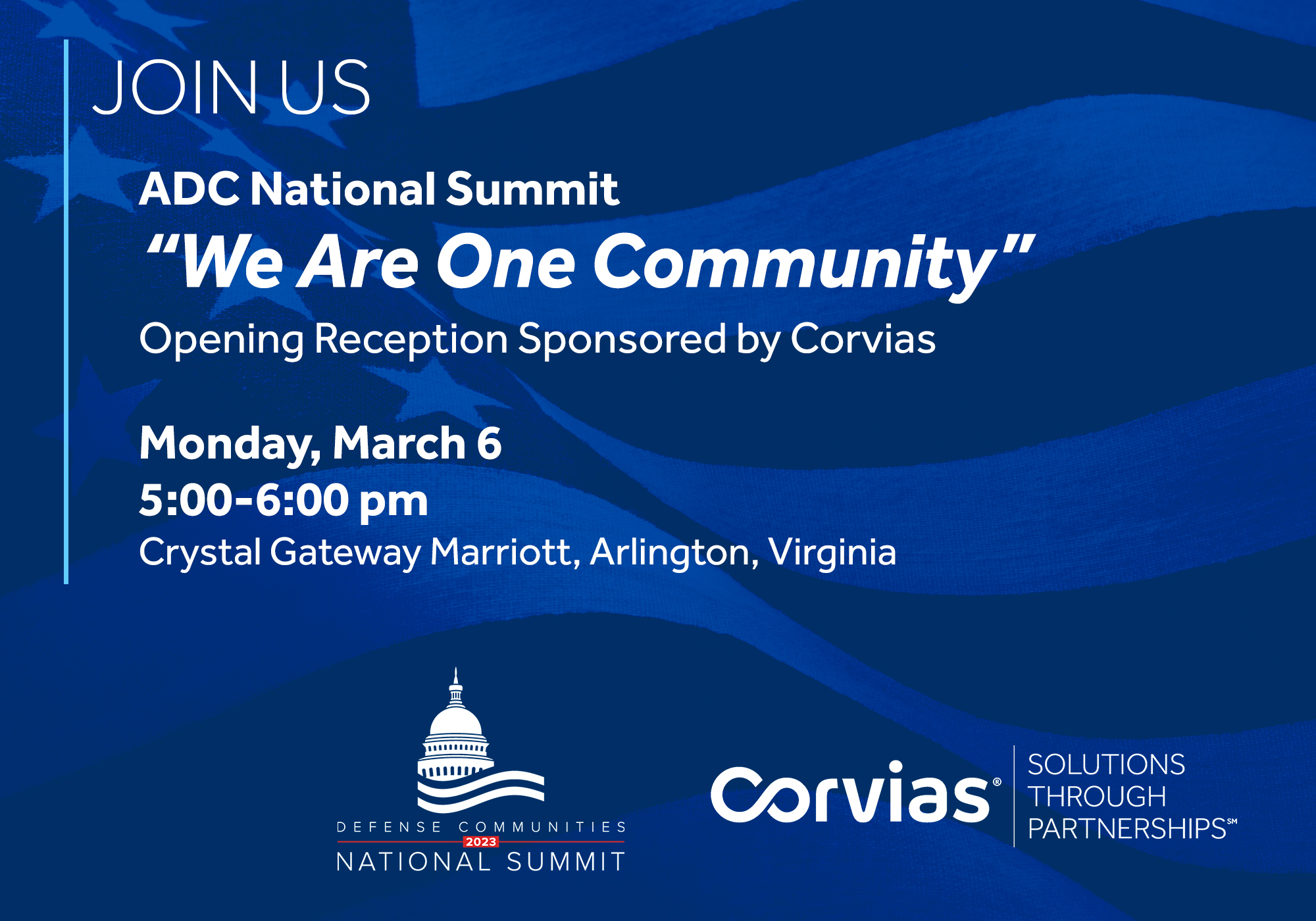 # # #
About Corvias
As a privately-owned company headquartered in Warwick, RI, Corvias partners with the Department of Defense and higher education institutions nationwide to solve their housing, infrastructure, and energy resiliency challenges and to create long-term, sustainable value through our unique Solutions Through PartnershipsSM approach. Corvias pursues the kinds of partnerships that materially and sustainably improve the quality of life for the people who call our communities home. Corvias seeks to partner with organizations with aligned values and missions that are important to our nation's success. To learn more, please visit: www.corvias.com.