Vernon Parrish, LA (December 4, 2018) — Corvias has completed substantial energy upgrades within its housing partnership with the U.S. Army at Fort Polk in West-Central Louisiana. The upgrades, which include installations of geothermal heat pumps, ENERGY STAR energy and water saving devices, will save more than one million dollars annually and are part of the U.S. Military Housing Privatization Initiative, in which the Department of Defense can work with the private sector to revitalize military family housing.
"This milestone marks a significant step in achievement of Fort Polk's energy conservation goals," said Colonel Jarrett A. Thomas II, Fort Polk Garrison Commander. "Through this project we are demonstrating our dedication to our military families and our commitment to energy security and sustainability. Projects like this allow the Army to build smart installations, inspired by the growing trend of smart cities, while at the same time ensuring security."
"Our partnership allowed us the opportunity to see and realize significant innovations that save the U.S. Army money, while supporting its goal of energy independence," said Heath Burleson, Partnership Advisor at Corvias. "The Corvias partnership with Fort Polk lends itself to continuous improvement, to finding and implementing ways in which Corvias and the Army can improve military housing quality, operations, maintenance and resilience, to continually evolve and reinvest in the partnership and ultimately provide greater benefits to our partners, soldiers, their families and the general public."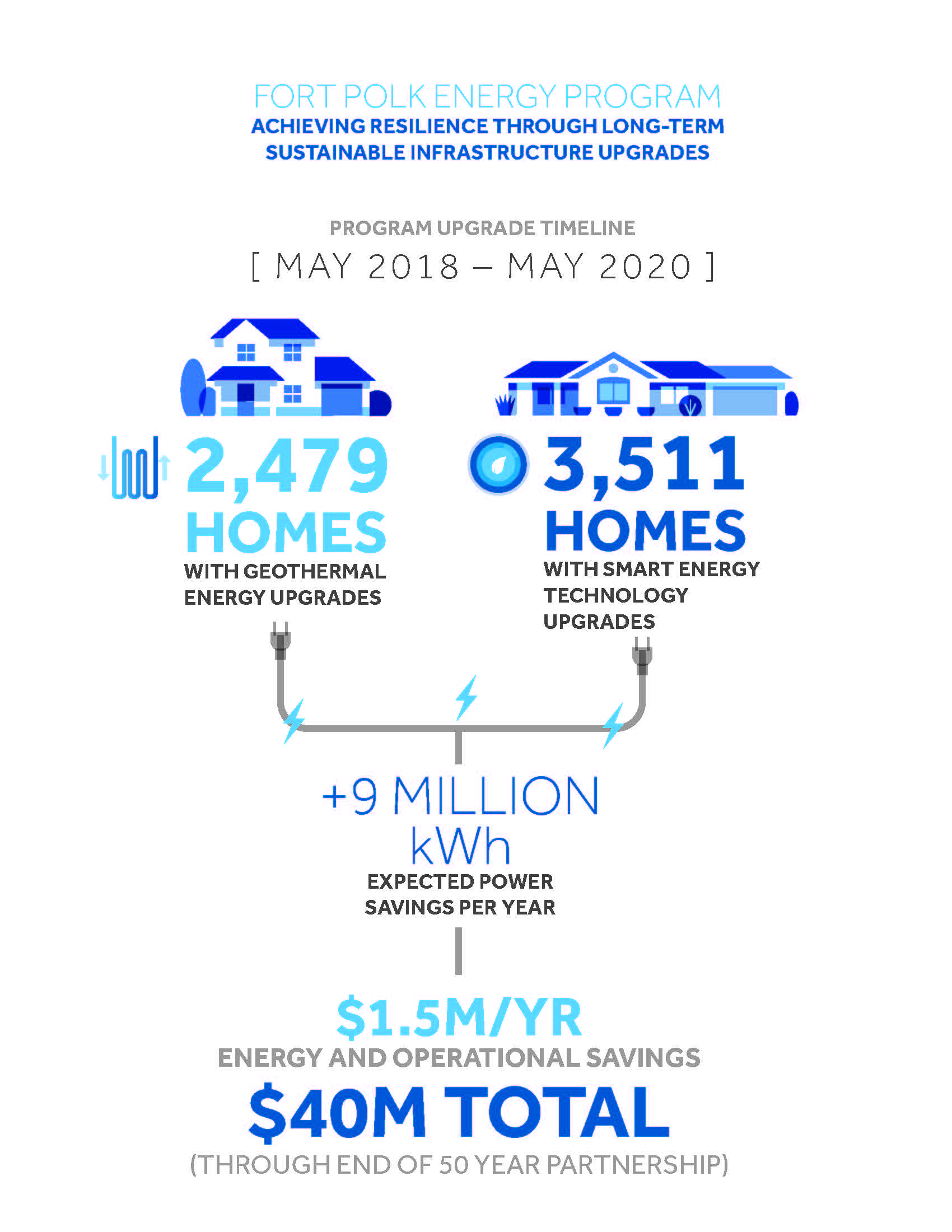 For these upgrades, Corvias raised $34M of capital infusion to implement operational efficiencies, create cost savings, and replace and upgrade outdated infrastructure within Fort Polk's housing portfolio. The program will average $1.5 million per year in energy savings and operational cost avoidance, totaling more than $40 million in savings throughout the remaining 35 years of the program. In turn, those cost savings are reinvested into the program as part of an asset management platform for capital improvements.
Corvias has installed:
30% of the 2,400 planned geothermal heat pumps and is on schedule for the remaining residences.
100% of 3,500 residences with water and energy conservation fixtures, including low-flow faucets, shower heads and toilets, and the ENERGY STAR certified Nest Learning Thermostat.
The resulting savings of more than 9 million kilowatt-hours per year of electricity equates to removing the CO2 emissions from 1,400 passenger vehicles from the road. In addition, water upgrades will save 71 million gallons of water annually, the equivalent of 750 average-sized swimming pools.
"Since 2004, Corvias has worked with the Army at Fort Polk to solve long-standing deferred maintenance needs and increase its housing inventory, all to provide a more comfortable on-base living experience for military families," added Burleson. "Corvias is doing so by integrating energy efficiency and building improvements, while reducing environmental impacts."
###
About MHPI
Enacted by Congress in 1996, the Military Housing Privatization Initiative leverages private-sector capital, as well as housing industry expertise in construction and management, to reverse the military's housing deficiency by expanding and modernizing housing, with predictable, stable long-term operating costs and performance.
About Corvias
As a privately-owned company headquartered in East Greenwich, RI, Corvias partners with higher education and government institutions nationwide to solve their most essential systemic problems and create long-term, sustainable value through our unique approach to partnership. Corvias pursues the kinds of partnerships that materially and sustainably improve the quality of life for the people who call our communities home, purposefully choosing to partner with organizations who share our values and whose mission is to serve as the foundational blocks, or pillars, of our nation. To learn more, please visit: www.corvias.com.