Warwick, RI (April 20, 2023) – With quality of life as a top priority for Fort Johnson leadership, Corvias, a solutions provider to the Department of Defense, proves to be a valued Army partner dedicated to housing and infrastructure enhancements. At the same location, Corvias Property Management continues its award-winning commitment to operate, maintain and provide service to the more than 4,800 residents of on-base housing at Fort Johnson.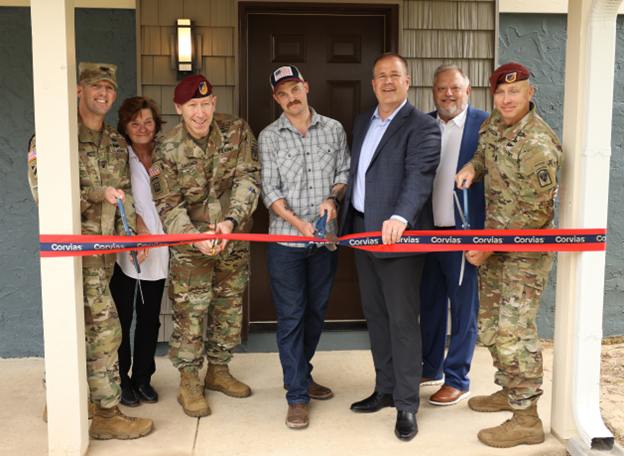 In 2021, Corvias announced a commitment to perform more than $92M worth of housing upgrades to Fort Johnson by 2024. As part of that commitment, today the company, along with its Army partner, celebrated the delivery of 22 newly renovated homes during a ribbon-cutting ceremony on Berkley Court.
Guests at the event included Brig. Gen. Gardner, Command Sgt. Major Devereaux, Col. Vaseliades, Staff Sergeant Brody Gragg and Corvias leaders Pete Sims, DoD Managing Director and Kirk Green, Operations Director. After sharing a few words, attendees were able to walk through the home to see upgrades and details firsthand. Local residents also stopped by the event to connect with other guests and enjoy refreshments.
"As a long-term Army partner, we are fully invested in providing quality homes for our military families. After a long trip from Alaska, we welcome Staff Sergeant Brody Gragg and his family not only to Fort Johnson, but also to a house that they can be proud to call home," said Pete Sims.
From new countertops, cabinets, flooring, appliances, light fixtures, windows and doors on the interior to exterior upgrades like new roofs, porches and walkways, these homes received a variety of extensive renovations. Both the interiors and exteriors received a fresh coat of paint, as well. Geothermal heating and cooling pump upgrades will also significantly reduce the community's carbon footprint. Additional road and driveway improvements, as well as modifications to allow for better drainage, strengthened the community's infrastructure.
Corvias' future Fort Johnson improvements include playground updates, and both medium and major home renovations and a 13MW ground-mount solar project. This work is part of both short- and long-term capital improvement plans, as well as through partnership savings created by utilities and water efficiency programs that reduce expenses and fund additional improvements.
Corvias will continue to reinvest into its Fort Johnson partnership with the U.S. Army and at all installations in which they have military housing partnerships to consistently improve the on-post housing experience and enhance the quality of life for military families.
To learn more about Corvias' military housing partnerships, please visit their website.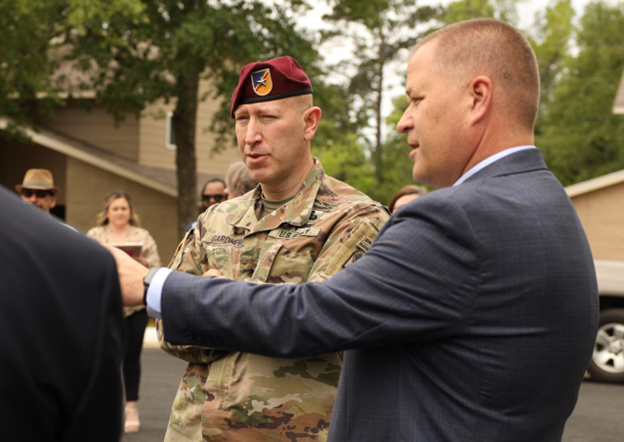 # # #
About Corvias
As a privately-owned company headquartered in Warwick, RI, Corvias partners with the Department of Defense and higher education institutions nationwide to solve their housing, infrastructure and energy resiliency challenges and to create long-term, sustainable value through our unique Solutions Through PartnershipsSM approach. Corvias pursues the kinds of partnerships that materially and sustainably improve the quality of life for the people who call our communities home. Corvias seeks to partner with organizations with aligned values and missions that are important to our nation's success. To learn more, please visit: www.corvias.com.
About Corvias Property Management
Corvias Management, LLC and its military property management affiliate apply their resident-first approach to provide housing operations, maintenance and service support for university and military communities to create safe, high-quality places to live, learn, work and interact. Together they manage 42,000 residential units, totaling approximately 50 million square feet of real estate across ten U.S. states, including at seven military installations and 15 universities.