Fort Meade, MD (June 12, 2023) – Furthering its commitment to be a partner of choice to the U.S. Army and a solutions provider to the Department of Defense (DOD), Corvias, which operates and manages nearly 22,000 homes across seven military installations, announced its latest housing and infrastructure enhancements at Fort Meade to support the Army's readiness and resiliency goals.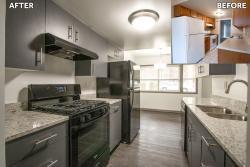 Recognized as the nation's defense center for information, intelligence, and cyber operations, it is critical, and a top priority for Fort Meade leadership, to provide secure and convenient on-base housing options to service members and their families. The most recent renovations completed by Corvias at Fort Meade further exemplify its commitment to helping the Army and Department of Defense meet its need to provide quality on-post housing. The completed project included upgraded flooring, bathrooms, kitchen counters and cabinets, and energy efficient lighting and appliances at 18 homes located in the Potomac and Patriot Ridge neighborhoods. These are just one of many projects that Corvias has completed to enhance the quality of life for military families and to stay within the Basic Allowance for Housing (BAH), which covers the basic costs of rent.
Since 2001, Corvias has been a partner to the U.S. Military under the Department of Defense's Military Housing Privatization Initiative (MHPI) program. Typical housing partnerships, which last around 50 years, enable consistently affordable, beautifully designed, and quality housing options – providing value to not only our partners, but service members and their families. Understanding the current demand for affordable and desirable on-base military housing is at an all-time high, Corvias' reinvestments into its military housing communities have attracted service members to well-priced, competitive, and modern outfitted residences, saving them from the inflated off-base market.
"As a partner of choice for more than 20 years, we are fully invested in providing quality homes to service members and families that live across our military housing communities," said Pete Sims, Corvias' DOD Managing Director. "Modernized units and successful housing management and operations is often a top criterion for people considering joining branches of service. Not only do these upgrades support the Army's recruitment, readiness, and resiliency goals, but they also reflect resident feedback and ensure access to affordable, convenient, and desirable housing options."
Upon completion, the newly renovated homes are being leased by active-duty service members within ten days or less. Corvias is working with the Deputy Assistant Secretary of the Army (DASA), U.S. Army Installation Management Command (IMCOM) and local command at Fort Meade for solutions that would enable broader improvements.
"The overwhelming response further supports the demand, and we will continue to build and modernize units to meet both resident and market needs as well as provide sustainable growth to our partners," said Sims.
Corvias pursues the kinds of partnerships that materially and sustainably improve the quality of life for the people who call its communities home. Corvias constructs and renovates housing and infrastructure that provide long-term value, and proactively manages the maintenance and repairs to ensure housing is kept to current and desired standards.
According to Dan K. McNeill, retired Four-Star General, Infantry, U.S. Army, "I admit that I had profound doubts about the probability of success. However, believe me, the results were wildly beyond any of my expectations. What I learned was Corvias had not only the motivation to care for our Army families, but they also exhibited strong expertise in business processes, planning, and management. Their experience and approach enabled them to meet or exceed the goals and aims of the partnership as well as the expectations of Army families."
Two Decades of Partnership
Fort Meade was the first housing partnership, in which Corvias solved for the Army's decades-long maintenance backlog of 4,000 maintenance work orders. Corvias' performance-based partnerships with the Army have earned the company a national overall resident satisfaction rating that exceeds 4 out of 5 stars, as independently measured by SatisFacts.
To learn more about Corvias' military housing partnerships, please visit www.corvias.com.
# # #
About Corvias
As a privately-owned company headquartered in Warwick, RI, Corvias partners with the Department of Defense and higher education institutions nationwide to solve their housing, infrastructure and energy resiliency challenges and to create long-term, sustainable value through our unique Solutions Through PartnershipsSM approach. Corvias pursues the kinds of partnerships that materially and sustainably improve the quality of life for the people who call our communities home. Corvias seeks to partner with organizations with aligned values and missions that are important to our nation's success. To learn more, please visit: www.corvias.com.