As featured in the April 9, 2021 issue of The JRTC and Fort Polk Guardian
In 2020, Fort Polk endured two severe hurricanes, Laura and Delta, followed by an ice storm in early 2021. The damage caused by the storms was extensive—over 70% of the homes on post sustained significant damage—but the team has been swift in its progress to restore the community and the impacted homes.
In the immediate aftermath of the hurricanes, Corvias Property Management answered over 3,000 calls with more than 60% of them considered emergencies. The emergencies during these extreme weather disturbances included roof leaks, flooding, trees on homes, burst pipes and debris damage. On top of the damage to homes, hundreds of trees and limbs were blocking roads and power was out for 10 days in the aftermath of Hurricane Laura. The Corvias team mobilized within 72 hours of each storm to begin repairs, starting with the roughly 2,650 roofs that needed to be tarped, a process that takes two to five maintenance techs an average of 3 hours per roof depending on the severity of the damage.
"We know our service members and their families are anxious for all the repairs to be complete. We have brought in additional construction, maintenance, and remediation support and are working tirelessly to address the restorations," said Fort Polk Operations Director Wil Motta. "We appreciate their understanding during these past months of unprecedented extreme weather events."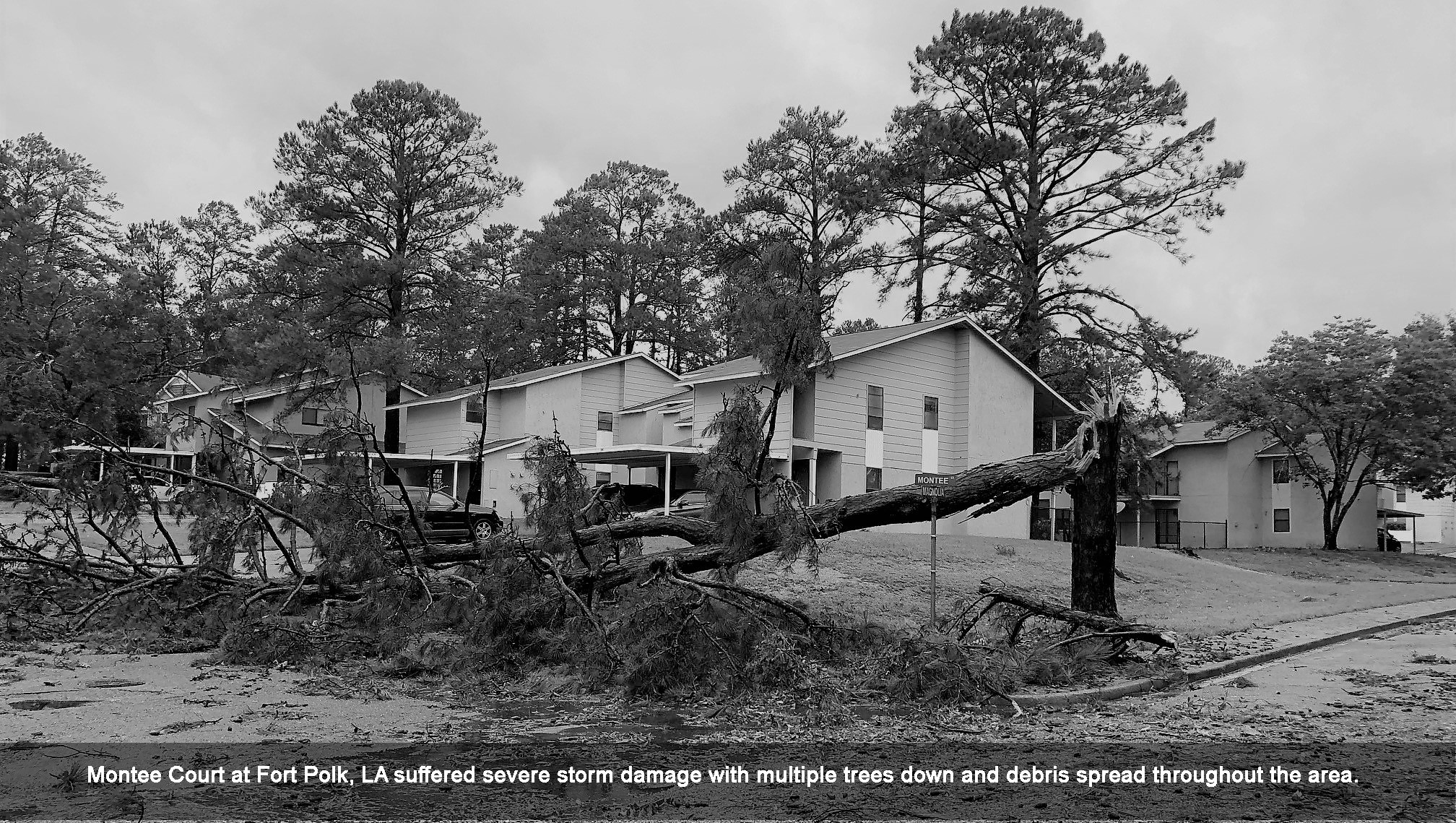 To date, over 2,000 of the 2,650 damaged roofs have been repaired. The remaining roofs are currently in the process of being fixed. All 728 interior repairs in occupied homes have been completed, as well as over 200 plumbing repairs because of the ice storm in mid-February. 
Because Fort Polk is no stranger to extreme weather, Corvias had a plan in place to allow the team to rapidly respond that included pre-stocked emergency supplies, a command center, and a group of pre-selected emergency technicians who could respond in critical situations. In addition, a dedicated team of staff members volunteered to stay on the installation during the storms to be available for the residents' immediate needs, regardless of the time of day. 
 In assessing the damage to homes, the Corvias team realized several families would need to be temporarily relocated while repairs were made to their homes. Corvias tripled the amount of on-post hospitality suites to accommodate the displaced families, which allowed them to stay in a fully furnished on-post home until their home was repaired. The Corvias We Care team continually communicated with the displaced families, updating them on the status of work on their homes, and assuring them that their needs would continue to be met until the work was completed.
Corvias is planning for full recovery by the end of May.
For maintenance requests, Corvias Property Management encourages residents to call: (337) 537-5020 or (337) 537-5013 during normal business hours or to call: (337) 537-5050 or 1(866) 436-2047 after hours for any emergencies