May 13, 2021
In February 2021, Fort Sill was pummeled by a severe ice storm followed by days of intense cold weather. The impact of the storm was extensive—over 17% of the homes on post sustained significant damage—but the team has been swift in its progress to restore the community and the impacted homes.
In the immediate aftermath of the ice storm, Corvias Property Management answered more than 1,500 calls with approximately 60% of them considered emergencies. The emergencies included roof leaks, frozen and burst pipes, trees down, and debris damage. On top of the damage to homes, sporadic power outages occurred affecting more than 400 homes. The Corvias team mobilized immediately to begin repairs, starting with shutting water off to nearly 300 homes with busted pipes.  
"We know our service members and their families are anxious for all the repairs to be complete. We immediately identified the need for additional support from ServPro, who alongside our team, is working tirelessly to address the restorations," said Fort Sill Operations Director Amber McNeil. "We appreciate their understanding during these past two months as we prioritize the repairs."
To date, all 318 damaged homes have been inspected and areas of moisture intrusion identified. The next step was to create an individualized restoration plan and schedule for each home. Corvias is working closely with residents to facilitate access to their homes to complete the required repairs. Crews are working every day, including weekends, to make repairs. Roughly 300 homes have been repaired and less than 15 are in progress.  
In assessing the damage to homes, the Corvias team realized several families would need to be temporarily relocated while repairs were made to their homes. Corvias added 10 additional on-post hospitality suites to accommodate the displaced families, which allowed them to stay in a fully furnished on-post home until their home was repaired. The Corvias team continually communicated with the displaced families, updating them on the status of work on their homes, assuring them that their needs would continue to be met until the work was completed.
Corvias is planning for full recovery by June.
For maintenance requests, Corvias Property Management encourages residents to 844-947-4412, visit sill.corviaspm.com/or submit via the Resident Portal app. If you do not have the app, it can easily be found in your app store.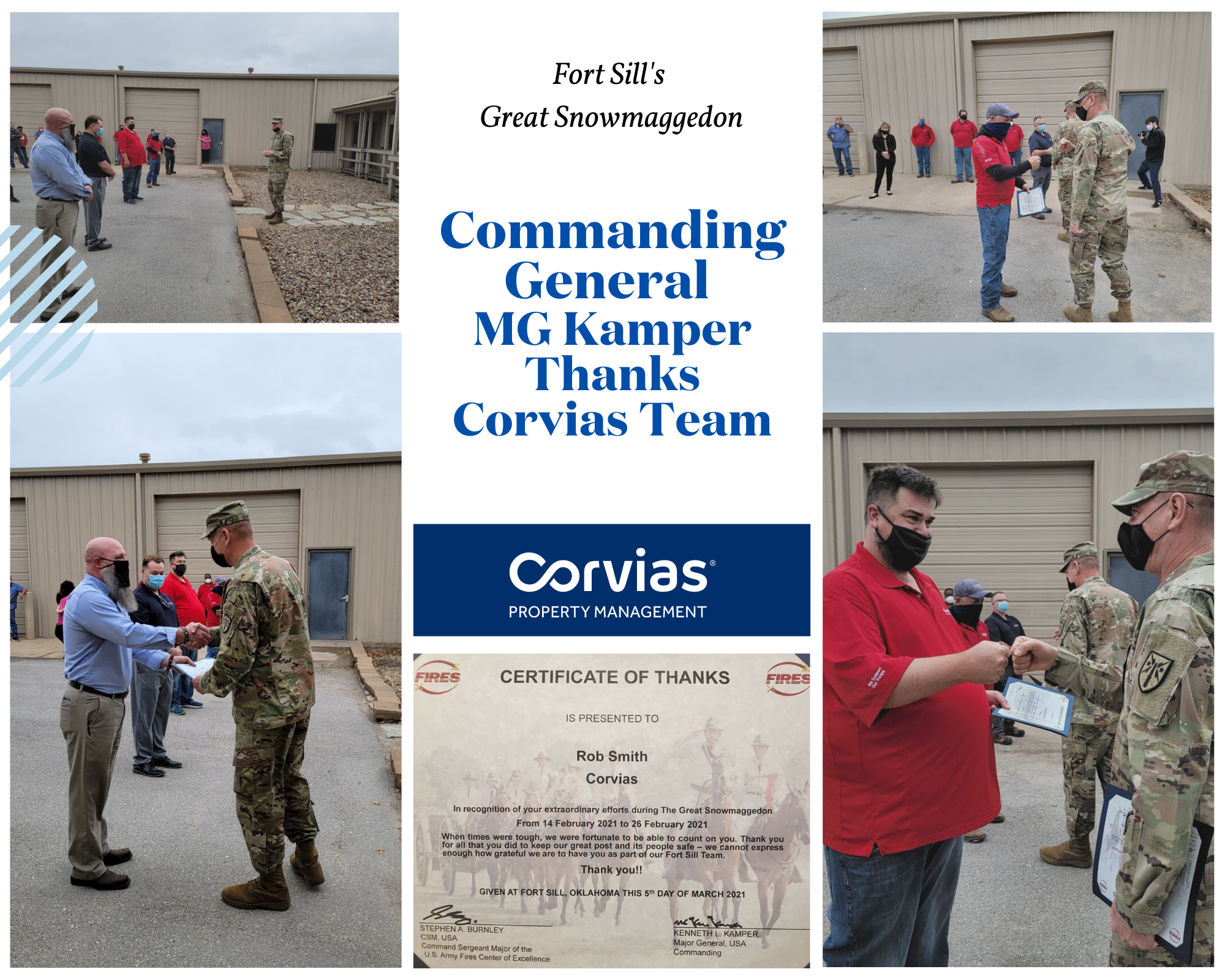 MG Kamper held a small appreciation ceremony for the Corvias Property Management team to acknowledge their hard work and dedication to the Fort Sill Community in the aftermath of February's ice storm.