Warwick, RI (June 8, 2023) – Energy independence is critical to the security, readiness, and resiliency of the military. As a long-term solutions and management partner to the U.S. Army, Corvias continues to make significant strides to assist the Army's strategic objectives and incorporate low-emission energy technologies across its more than 22,000 homes at seven military installations. The completion of Corvias' most recent energy efficiency upgrades will further help to provide significant long-term savings, lessen environmental impacts, and provide an enhanced on-base housing experience to service members and their families.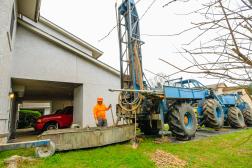 "Corvias continually develops innovative plans to support the needs of our Army partners and better the communities in which we operate," said Pablo Varela, Senior Vice President, Renewable Energy & Utilities Management. "Whether it is in the form of water and energy efficiency upgrades or renewable energy, such as geothermals, solar energy, and other innovative solutions, all efforts advance the Army's readiness and resiliency goals and champion the Army's global commitment to reducing its carbon footprint and reliance on natural resources."
Top Three Benefits of Energy on Military Installations:
For Corvias, advancing renewable energy goals for their partners and Corvias-managed installations is essential. The top three benefits of energy on military installations include the following:
1. Generation of long-term savings
2. Support of Army Climate Strategy (ACS) goals
3. Resiliency and energy security to the installations
Recent Projects:
Electric and Water Saving Devices
Corvias' most recent energy conservation project included installing more than 50,000 electric and water saving devices across more than 15,000 military homes. The overall project is projected to save $6M in the first year alone. In addition to the environmental and savings benefits, the upgrades further enhance the modernized look and feel of the military homes and quality of life for residents.
Geothermal Heat Pumps and Upgraded Wells
A recent milestone geothermal project included more than 2,600 geothermal heat pumps with upgraded wells, which utilize heat from the earth to conserve energy. The overall geothermal project is projected to result in – more than 75 million gallons of water, over 9.5 million kWh of energy, and more than $1.5M –saved annually. The projected total savings throughout the remaining years of the Corvias program is $40M.
"The amount of energy saved per year at only one military installation from geothermal heat pumps and upgraded wells is equal to removing the CO2 emissions from 1,400 passenger vehicles from the road. This is an incredible milestone for us and just one of many impactful projects on the horizon," said Varela. "As we continue to reinvest in our military communities for renovations, new homes, and quality-of-living improvements like energy efficient upgrades, we are able to provide even greater value to our partners and to the service members and their families who call our communities home."
Rooftop and Ground Mount Solar
In addition to the more than 34MW of solar that is currently operation, Corvias has more than 70MW of ground mount solar in development with the Army. This will be enough to power nearly 13,000 homes for one year.
"Within our portfolio, the average household rooftop solar panel system can reduce pollution by 100 tons of carbon dioxide in its lifetime. Now imagine the impact that will have if integrated across our more than 22,000 military homes," said Varela.
Future Energy Efficiency Projects:
Future Corvias initiatives underway include those related to Energy Savings Performance Contracts (ESPCs), which help eliminate fiscal constraints that can stop a project before it is even conceptualized. The company is looking at ESPC projects across its portfolio to maximize the investment related to tax credits and Inflation Reduction Act funding, which directs significant federal funds to clean energy, to support sustainability goals, and the environment.
"We are working tirelessly to reduce our carbon footprint and electrify homes by eliminating natural gas where possible, to benefit our military partners and residents. Over time, the savings will result in lower and predictable rates, which will allow us to further invest in and return those savings to our military customers," said Varela.
To learn more about Corvias' renewable energy solutions, visit: www.corvias.com.
# # #
About Corvias
Department of Defense and higher education institutions nationwide to solve their housing, infrastructure and energy resiliency challenges and to create long-term, sustainable value through our unique Solutions Through PartnershipsSM approach. Corvias pursues the kinds of partnerships that materially and sustainably improve the quality of life for the people who call our communities home. Corvias seeks to partner with organizations with aligned values and missions that are important to our nation's success. To learn more, please visit: www.corvias.com. 
Media Contact:
Mary Humphreys
(401) 541-3375
Communications@Corvias.com