WARWICK, R.I. (Jan. 31, 2023) – When Brandi Rami thought about how she and her team could give their time as volunteers, she knew she wanted to provide some winter warmth and joy to military veterans through her local Veterans Affairs (VA) Medical Center but didn't know how to begin. Fortunately, as operations director for Corvias Property Management at Wayne State University in Detroit, she had the opportunity to opt into an employer-supported volunteer program.
All told, Corvias team members volunteered more than 625 hours nationwide and donated more than $120,000 to non-profit organizations in 2022 in honor of Corvias' core principle to "generously give back to the communities where we live and work." Volunteering through an employer leverages workday time and increases impact by delivering a whole team of volunteers to accomplish an activity on a scale no one person could undertake on their own.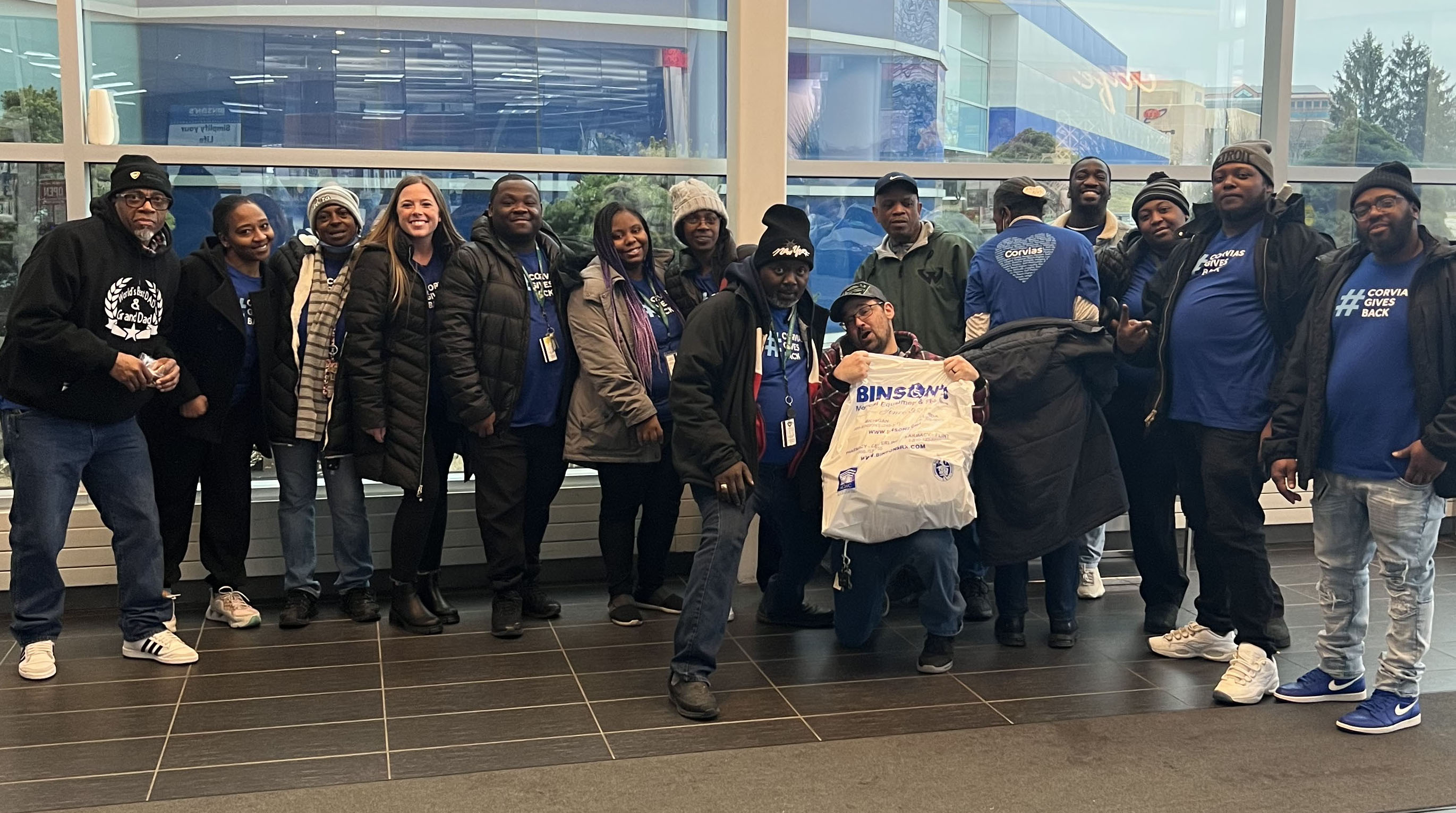 In Brandi Rami's case, that experience began with shopping. Her team purchased thousands of items on the wish list of the John D. Dingell VA Medical Center in Detroit. Items included essential personal care items, such as eyeglasses, shaving cream, razors, soap, and hairbrushes; entertainment items, such as games, playing cards, DVDs, books, and crossword puzzles; and comfort items such as warm blankets for winter. Then, Rami and her team delivered shopping bag after shopping bag to the VA Medical Center.
Recognizing that not everyone can volunteer on the weekend, Corvias, through its VTIME program, offers each team member eight hours per year to volunteer during the workday. Rami said, "We felt supported throughout the process and feel good that we are giving back to those who have given so much to our country."
In addition to supporting veterans, other Corvias teams' volunteer activities included painting bleachers at a local school in Lawton, Oklahoma, a community beautification project involving raking and weeding at Aberdeen Proving Ground in Maryland and sending holiday stockings to deployed service members. Corvias also offers team members the opportunity to multiply their donations to charitable causes. For every dollar an employee donates to a non-profit of their choosing, Corvias donates two dollars.
In 2022, Corvias team members donated more than $40,000. Together with the company match, that amounted to more than $120,000 donated to nearly 70 organizations in need.
"Being a great community partner is an important part of who we are as a company and is a special part of our culture," said Corvias CEO, Chris Wilson. "Our team members like to give in different ways, and we think it's important to meet them where they are and to support them when and where they need it."
Rami concurred, "The employee volunteering program at Corvias is a wonderful way to show support for employees. In the midst of the day-to-day busyness of our work, it can be challenging to plan a volunteer event, but the support we get from Corvias simplifies the process. I loved seeing the pride in my team's eyes when we were done."
Volunteer and donation programs may not be used to support organizations that discriminate based on race, color, age, gender, religious creed, veteran status, marital status, sexual orientation, pregnancy, childbirth, national origin, or ancestry, physical or mental disability, medical condition or genetic information, or political affiliation.
# # #
About Corvias
As a privately-owned company headquartered in Warwick, R.I., Corvias partners with higher education and government institutions nationwide to solve their most essential systemic problems and create long-term, sustainable value through our unique Solutions Through PartnershipsSM approach. Corvias pursues the kinds of partnerships that materially and sustainably improve the quality of life for the people who call our communities home, purposefully choosing to partner with organizations who share our values and whose mission is to serve as the foundational blocks, or pillars, of our nation. To learn more, please visit: www.corvias.com.