East Greenwich, RI (May 18, 2020) - Corvias, a long-term solutions and management partner to the U.S. military, has begun delivery of more than 100 renovated homes in the Munson neighborhood at Fort Rucker as part of its $325 million capital investment that continues to fund improvements to the company's entire Army housing portfolio. Corvias worked with local small businesses to complete the renovations, which involved gutting the homes down to the studs and designing an all-new floor plan filled with contemporary design elements.
The renovated homes, all duplexes originally built in the late 1950s, received state-of-the-art updates to modernize the layout and refresh the look and feel of the homes. The cabinets, lighting, fixtures and appliances used are unique to the renovations at Fort Rucker. Renovations and updates include: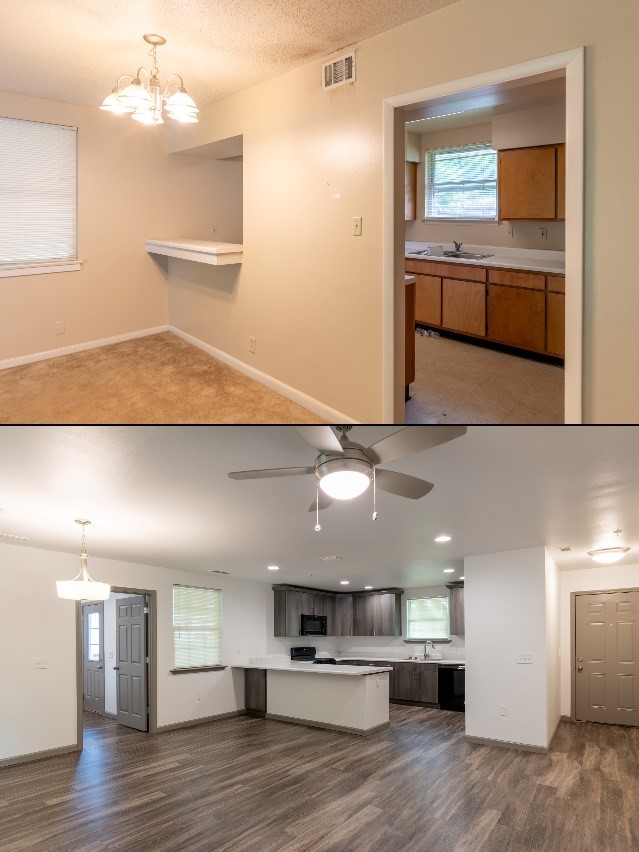 Updated floor plans
Energy efficient systems
New front and back porch
New windows, roofs and gables
Installation of upgraded interior materials like luxury vinyl plank flooring
Widened driveways, refreshed landscaping and improved exterior siding
More efficient air conditioning units, new sealant and insulation
To complete this project, Corvias' construction and design teams worked together to design and build homes that are both functional and stylish with materials that are easy for residents to maintain. To help support the local economy, Corvias worked with local vendors with nearly 30 percent of the subcontractors coming from the area surrounding Fort Rucker.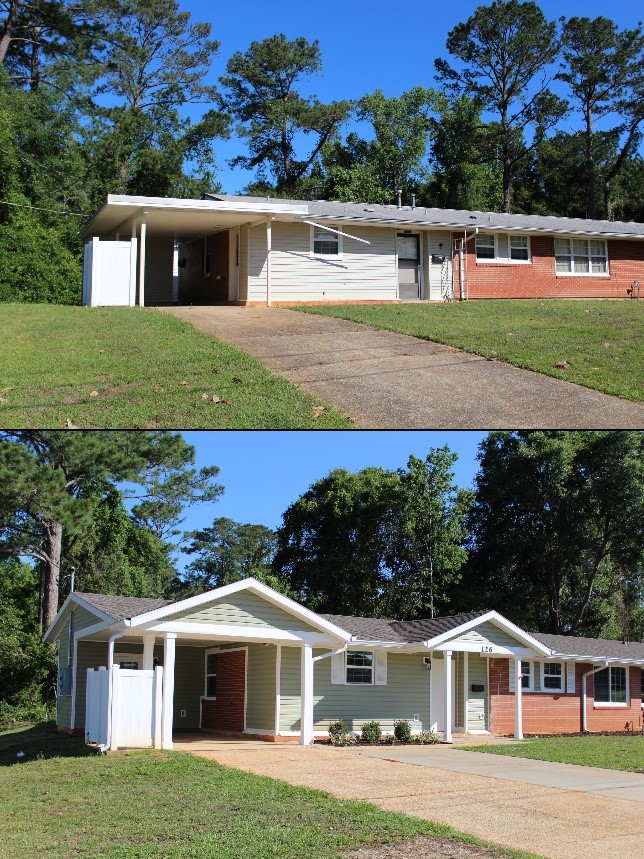 "Completing the renovations during these challenging times of COVID-19 was especially important to our team as we wanted to maintain our promise to deliver great homes and improve the quality of life for our soldiers and their families," said Chuck Cavaretta, vice president of construction, Corvias. "Construction work is considered essential at our installations and Corvias followed CDC, state and local guidelines to prioritize the safety and well-being of our employees and contractors while sustaining the local economy and small businesses. We support our military families with new, modern housing and our local business community with rewarding projects that keep their staff employed during the health crisis."
"Corvias worked with its vendors, including lighting, cabinets, flooring and plumbing, to come up with new standards for our families that reflect the state-of-the-art materials for easier maintenance," said Patricia Cotoia, director of design, Corvias. "The resulting renovation at Fort Rucker produced the best possible homes for our residents."
At Fort Rucker, Corvias provides full-service management and operation of 1,476 homes, ranging from leasing to repairs and maintenance as part of the Military Housing Privatization Initiative. In addition to an installation-wide housing program, Corvias is responsible for managing the infrastructure for 977 acres to ensure compliance with local, state, and federal regulations pertaining to water quality and stormwater runoff. Since taking over operations, residents at Fort Rucker have better access to on-post services in addition to living in high-quality, single-family or duplex layouts that utilize Energy Star appliances to be eligible for LEED-Silver certification.
###
About Corvias
As a privately-owned company headquartered in East Greenwich, RI, Corvias partners with higher education and government institutions nationwide to solve their most essential systemic problems and create long-term, sustainable value through our unique approach to partnership. Corvias pursues the kinds of partnerships that materially and sustainably improve the quality of life for the people who call our communities home, purposefully choosing to partner with organizations who share our values and whose mission is to serve as the foundational blocks, or pillars, of our nation. To learn more, please visit: www.corvias.com