East Greenwich, R.I. (Sept. 2, 2021) – Corvias Foundation, a private foundation founded by Corvias CEO John Picerne to support education opportunities for military families, today announced it has awarded its annual military spouse scholarship to 16 recipients. The 2021 scholars, who are each the spouse of an active-duty service member stationed at a Corvias installation, will receive a one-time scholarship of $5,000 that will be used towards acquiring a higher education degree.  
"Military spouses face significantly higher unemployment rates and wage gaps due to their unique lifestyles that revolve around frequent moves, deployments, the need for childcare, and more," said Maria Montalvo, executive director of Corvias Foundation. "To combat these career challenges, Corvias Foundation designed this scholarship program to help military spouses earn degrees that will better enable them to secure employment and help provide for their families."   
Scholarship recipient Helen Bryant, the wife of an active-duty service member stationed at Eglin Air Force Base, underscored the importance of the challenges military spouses face.
"Often, military spouses are underrepresented in the military," said Bryant. "We are the ones who support our military personnel behind the scenes and undergo various obstacles in life that non-military families may never experience. Through it all, we strive to best support our spouse and the mission the military provides us."
"Corvias Foundation was founded on the core principle of giving back to the men and women who serve our country and their equally inspiring families," said Picerne. "This scholarship is one of the ways we give back and show our support to this extraordinary community. I look forward to welcoming this new class of scholars into the Corvias Foundation family and continuing to empower military spouses throughout their educational career."
The funds provided can be used by the recipients for expenses associated with receiving their degree, such as transportation to class, childcare, and school fees. Financial support is especially important this year as finances and employment opportunities have been severely affected by the recent pandemic. The 2021 class of scholars will be studying a wide variety of specialties, including nursing, teaching, law, social work and dental hygiene.
"My fellow military spouses inspire me to pursue higher education," said Fort Sill scholarship recipient, Kimberly Cioffi. "The spouses I know have shown me that it is possible to pursue their callings while also supporting their service members. They taught me to fearlessly go after my calling."
Since 2006, Corvias Foundation has awarded nearly $15 million to military children, spouses, and children of Corvias employees across 13 Army and Air Force installations.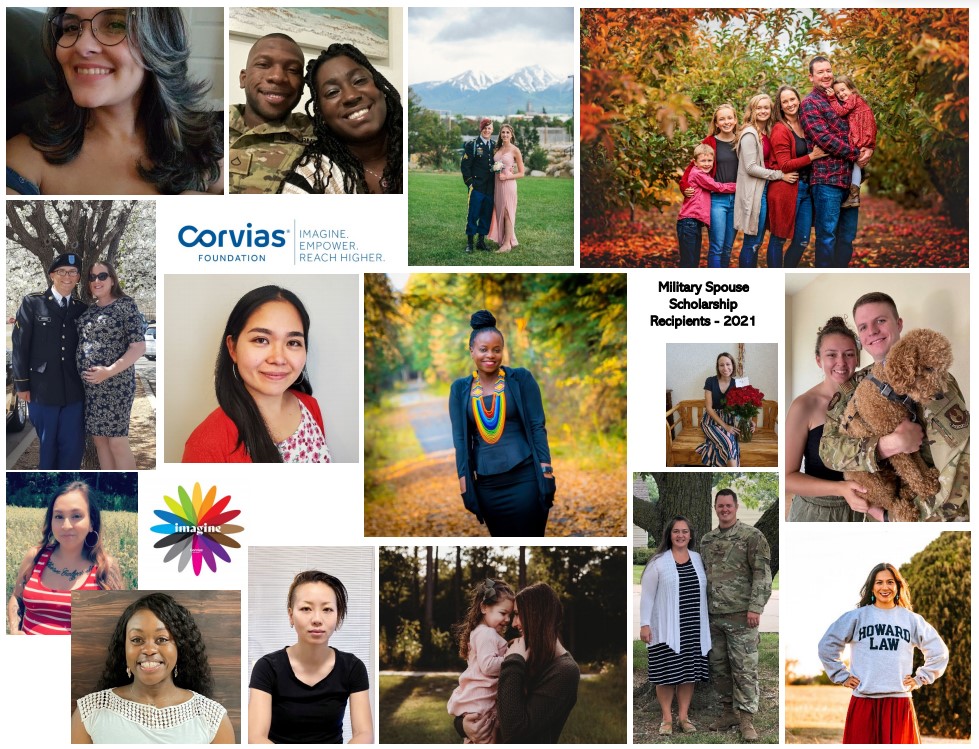 2021 Scholarship Recipients:
Eglin Air Force Base, Florida
Helen Bryant is working on a master's in Second Language Acquisition, Policy and Culture at the University of Southern Indiana. Helen has travelled the world with her military spouse and son, fueling a lifelong passion for education and learning. Raised in a multicultural home, Helen is passionate about how family and culture intersect with language.
Melissa deMayo is an Omaha native who studied political science at the University of Nebraska and is now pursuing a master's in Teaching at Kansas State University. Inspired by seeing her grandmother's effect on her former students' lives, Melissa's goal is to create an enduring positive impact through high school civics.
Eielson Air Force Base, Alaska
Metrine Nakinai is currently enrolled in Family and Human Development graduate studies at Arizona State University. Metrine is an advocate for women's education and believes education diminishes the grip of poverty and ignorance in society.
Heather Hiener is pursuing a master's in Social Work at Boise State University. Her children inspire her to continue her education and demonstrate that many things are achieved not through valuation by others, but through hard work and perseverance.
Fort Bragg, North Carolina
Alina Sanchez is studying General Business Administration at Fayetteville Technical Community College. She plans to use her education to start her own lifestyle business centered on arts and crafts, food and exercise.
Chantel Stumphf is studying Nursing at Fayetteville Technical Community College. Growing up in a multigenerational household with diverse health needs, Chantel finds joy in helping others with their health issues.
Ivana Porter is a medical student at Ross University School of Medicine. She earned a bachelor's degree from the University of Texas at Arlington and completed a Certificate of Biomedical Sciences at the University of Texas at Dallas. Driven by the needs of underserved communities, Ivana plans to use her education to focus on patient advocacy and to mentor and assist others in achieving optimal success. 
Fort Meade, Maryland
Mykell Wicks is a Licensed Practical Nurse working toward a Registered Nurse credential at Allegany College of Maryland. Mykell's two children inspired her lifelong dedication to nursing and encouraging others to understand the value of education and never giving up on one's dreams.
Fort Polk, Louisiana
Brianna Benfer has always wanted to work in the medical field but struggled to decide her area of specialization. Supporting her young sister through a difficult breast cancer diagnosis, Brianna was inspired to combine the compassion from her personal experience with the resiliency of being a military spouse and study Nursing at Northwestern State University of Louisiana so she can help better the lives of others.
Fort Riley, Kansas
Kathleen Calabrese plans to use her education to augment her dedication to lifelong learning, and inspire others to look at learning as a lifelong process. She is pursuing a master's in Library Science at Emporia State University.
Ellen Hollister-Breen was inspired to pursue a graduate degree after seeing her husband complete his bachelor's degree. Ellen is working toward her master's in Clinical Counseling at Upper Iowa University, which she will use to provide service to military spouses in need.
Fort Rucker, Alabama
Mary Michaelis has been a behavioral health nurse for almost three years, assessing and educating people who suffer with mental illness. She is working toward a master's in Nursing at the University of South Alabama to become a Psychiatric Mental Health Nurse Practitioner. Mary was inspired to pursue her degree after seeing the lack of access to providers in her local area. She hopes to alleviate the burden of care placed on behavioral health providers and provide greater access to patient resources.
Fort Sill, Oklahoma
Satomi Gushiken is a student of Dental Hygiene at Foothill College. Satomi grew up in Okinawa, Japan and since childhood, has dreamed of helping others feel confident and comfortable with their smile.
Kimberly Cioffi graduated with a bachelor's in Business Administration from Boston University. Deeply inspired by community service work, Kimberly is excited to earn her J.D. at Howard University School of Law and become an advocate for marginalized people.
Hurlburt Field, Florida
Misuzu Massey is studying to become a licensed practical nurse at Okaloosa Technical College. Born and raised in Japan, Misuzu is looking forward to inspiring those around her and helping fill the demand for nurses around the country.
Shamineyrie Castro Casillas is native to Puerto Rico and is pursuing an associate degree with psychology transfer at Northwest Florida State College. She hopes to assist people in need and inspire her children to pursue their education and career dreams.
###
About Corvias Foundation
Corvias Foundation is committed to inspiring students, college and university campuses, and military families to reach higher. Founded in 2006 as "Our Family for Families First Foundation," our work increases access to educational, internship, mentoring, and volunteer opportunities so that those we touch are empowered to pursue their dreams and to make a greater impact in service to their communities and their nation. We strive to create ever-increasing opportunities by providing the resources and networks needed to help our scholars and partners surpass their goals. We achieve this through a commitment to education, community engagement and high-impact charitable giving. To learn more, please visit: corviasfoundation.org.  

Media Contact:
Christina Chase, Corvias
401.541.3349
Christina.Chase@Corvias.com