MILWAUKEE (October 6, 2022) - Milwaukee Public Schools (MPS) River Trail School hosted a ribbon cutting ceremony and forest planting on Thursday, October 6, at 10:00 a.m. The school is nearing completion of a multi-phase project designed to give students hands-on experiences with business and agriculture right in the city of Milwaukee while providing stormwater runoff solutions. The project is a partnership among MPS, the Milwaukee Metropolitan Sewerage District (MMSD) and Corvias. 
When complete, River Trail School will be home to a small forest farm with chestnut, Asian pear, and hazelnut trees. Students will have the opportunity to learn about business and agriculture in a natural setting through a program that teaches them to harvest the fruit and nuts and develop plans to take them to market.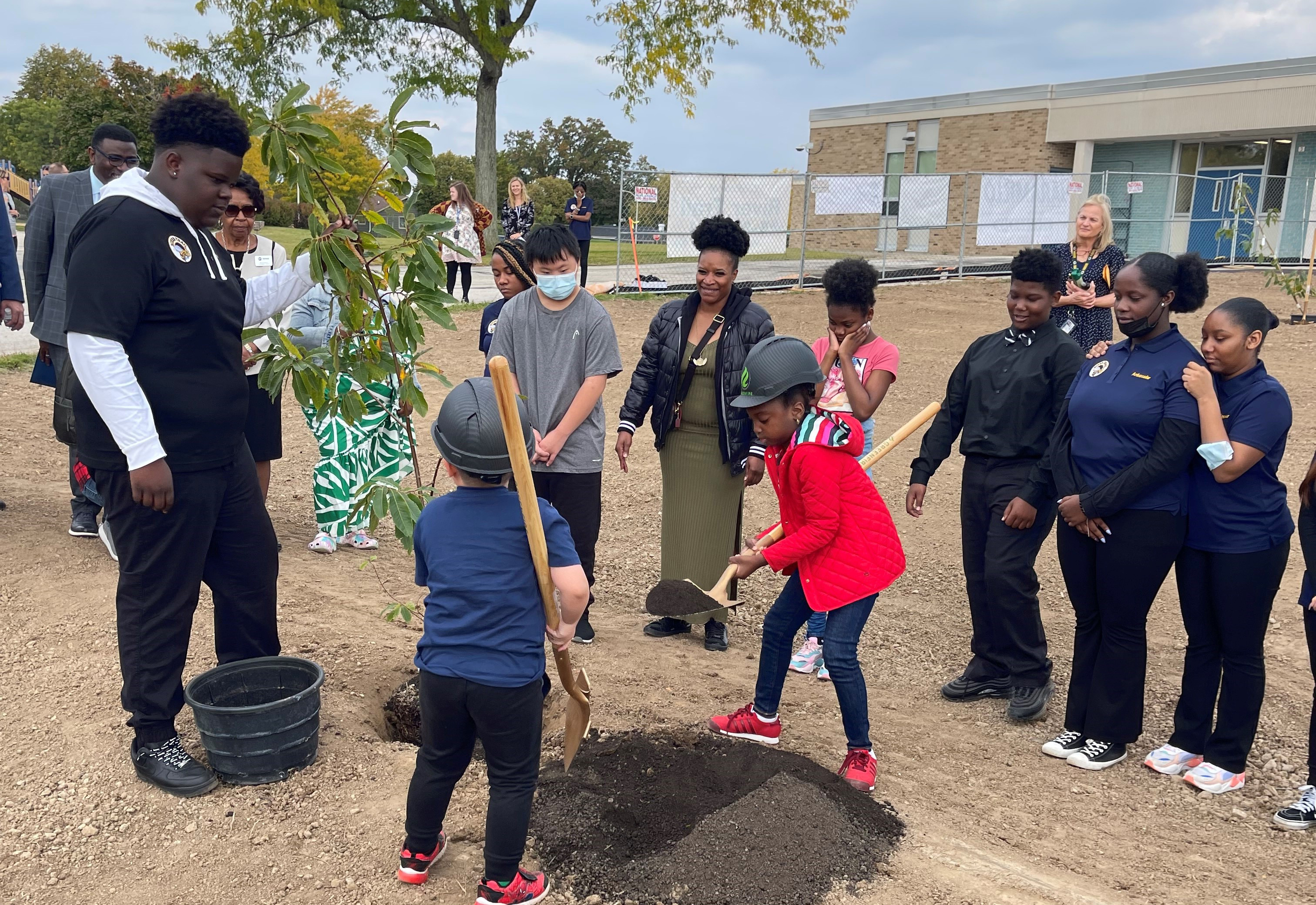 "This project shows students how problems become solutions," said River Trail Principal Robin Swan. "They will see firsthand how stormwater management can not only reduce runoff, but support our forest in producing food such as fruit and nuts." 
"This is a unique opportunity to expose students in the city to career options in agriculture, while also showing them how green technology and businesses can operate in real-world settings," said Tim Toohey, Managing Director, Corvias. "We are proud to partner with MMSD and MPS to bring this incredible resource to students and the community." 
Programming at River Trail will educate students about green infrastructure through the natural stormwater management system incorporated in the design of the urban forest. The trees, along with a series of berms and swales, can mitigate more than 170,000 gallons of stormwater during extreme rain events while providing a water supply for the vegetation. Students will learn ways stormwater runoff can be captured, stored, and infiltrated to support more than 100 new trees and shrubs every time it rains. 
 "The River Trail School Sustainable Production Forest will further develop the established partnership between MPS and MMSD to green MPS school yards," said Bre Plier, MMSD Manager of Sustainability. "This partnership is incredibly important to MMSD, not only to manage water where it falls, keeping it out of our sewers, but also to make curriculum connections for students on how to care for our waterways and environment." 
The urban forest project at River Trail School is one of many being undertaken as part of the Fresh Coast Protection Partnership (FCPP) between MMSD and its partner Corvias, which was approved and developed to implement and manage green infrastructure projects across the MMSD service area. The partnership is helping MMSD ramp up green infrastructure implementation to meet the group's 2035 Vision goal of capturing the first half-inch of rainfall across MMSD's service area. MMSD and Corvias are working on projects that include nearly 8.5 million gallons of stormwater capture capacity with green infrastructure in support of MMSD's overarching goals to reduce overflow volumes and localized flooding, and to improve water quality. 
GRAEF, a multidiscipline engineering, planning and design firm headquartered in Milwaukee, Wis provided civil engineering, landscape architecture, stormwater, survey and environmental engineering on the project. 
###
About the Milwaukee Metropolitan Sewerage District 
MMSD has a long history of providing funding for green infrastructure to public and private partners. Increasing numbers of intense rain events and the incorporation of green infrastructure into MMSD's permit have pushed MMSD to do more to be resilient in the face of climate change. The FCPP is expanding beyond the scope of previous green infrastructure programs to place, design, and construct green infrastructure to maximize benefits. 
About Corvias 
Corvias partners with higher education and government institutions nationwide to solve their most essential systemic problems and create long-term, sustainable value through its unique approach to partnerships. Corvias pursues the kinds of partnerships that materially and sustainably improve the quality of life for the people who call its communities home, purposefully choosing to partner with organizations who share its values and whose mission is to serve as the foundational blocks, or pillars, of the nation.  
 About River Trail School 
River Trail School offers a focus on agricultural and farming techniques in addition to traditional education for nearly 400 students in kindergarten through grade 8. This new project advances the River Trail School vision of hands-on experience for students while supporting green infrastructure. 
River Trail School is a leader in the city for agricultural sciences education in grades K–8. Students study food production and the business of agriculture through curriculum and activities that integrate a pollinator garden, raised garden beds, an 80-foot-long hoop house, three hydroponics machines, a pumpkin patch, a compost program, and a self-sustaining permaculture food forest. More information is available at https://schools.milwaukee.k12.wi.us/rivertrail/